Concert on the 26th of July, 2014
with
Trio Susak
Minka Popović, piano
Luka Loštrek, saxophone
Marko Zupan, flute
Trio Susak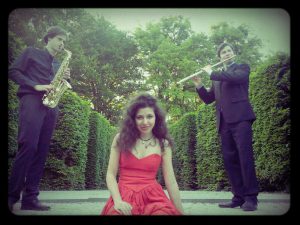 Trio Susak is a chamber music ensemble featuring flute, saxophone and piano, that plays a varied repertoire drawn from a multitude of musical periods, from baroque to modern, classical to contemporary. The unconventional combination of the instruments brings a unique light and color to their interpretation of the classics, and provides a fresh starting point for the creation and exploration of newer works.
Minka Popović was born in 1988 in Belgrade. Her first musical education began with Prof. Bojan Brun. She finished music high school in the class of Prof. Olga and Alexander Bauer, and in 2004 entered the Faculty of Music in Belgrade, and finished her studies in Prof. Nevena Popovic' class with best grades in 2008. Currently she is studying at the University of 'Mozarteum', and is continuing her education in Prof. Cordelia Höfer- Teutsch class. She is a prizewinner of several republic competitions and international piano concourses: first prizes (Rome 2005, First Banjaluka- bienalle 2008), second prizes (XII International piano competition in Athens 2006, international concours 'Villa de Capdepera' in Spain 2008). In 2010 she was chosen to play Mozart Piano Concerto KV 453 with 'Mozarteum' Uni Orchestra. The following year she had a debut in the Kammermusik- Saal of 'Berliner Philharmonie' with a program dedicated to Liszt's year (artistic director Götz Teutsch), and in 2013 she performed again at the same stage with Liszt's opera transcriptions. She is also the winner of Diploma for 'Best Student of the Generation' in Belgrade University; award from the fond of Royal Family Karadjordjevic – "for extraordinary accomplishments"; and Prize of City of Belgrade 'Belgrade angel'. She is a frequent performer in her country, and has performed in many concerts abroad, including Romania, Germany, Italy, Greece, Croatia and Austria, and has been featured in several radio and television- shows.
Luka Loštrek was born in 1980 in Logatec, Slovenia.He started his first musical education at the age of eight. In 2003 Lostrek finished his studies of classical saxophone (specialization) in 'CNR de Versailles' in the class of Prof. Vincente David. He received his diploma from University of music in Ljubljana (Slovenia) in 2004 and two years later his master-degree diploma at 'Conservatorium van Amsterdam' (Holland), with Prof. Arn Bornkamp. Lostrek plays with Slovenian Philharmonic Orchestra, Radio-TV Orchestra Ljubljana and the Military Orchestra. He presently also teaches at Logatec-music conservatory in Slovenia and is active as chamber and jazz musician in many ensembles. In the past years, Lostrek's performances with his chamber-music ensemble 'Trio Susak' were met with great success.
Marko Zupan was born in Zagorje, Slovenija. After the studies in his homeland he was granted a scholarship by the Slovenian Ministry of Culture to proceed his studies in Paris with prof. Pierre- Yves Artaud and later in Salzburg with prof. Irena Grafenauer. He perfected his knowledge in numerous masterclasses with world renowned flutists like Aurele Nicolet, Peter-Lukas Graf and Emmanuel Pahud. In this time he has won many prizes at the slovenian national competitions and also at the international music competitions (Trieste, Picardie, Belgrad, Braunschweig). In the year 2008 he became solo flutist in the Sudetian Philharmonic and a year later in the Philharmonic orchestra of Brandenburg state theatre in Cottbus. Since 2009 he is living and working as a freelance artist in Berlin. Playing as a solo flutist with Berliner Symphoniker, Philharmonia of the nations, Neues Kammerorchester Potsdam or Evian festival orchestra, member of different chamber music ensembles, soloist in recitals or with orchestra, he gave concerts in USA, Japan, China, Vietnam, Alegeria and throughout Europe. Recently he recorded two CD's, one with Trio Susak(flute, saxophone, piano) and the other with flutist Boris Bizjak and pianist Yoko Misumi, featuring music for two flutes and piano.
Since october 2010 he is assistant professor at the Academy of music in Split, Croatia. In 2013 he published Flute orchestral excerpts arranged for flute quartet with the Svitzer editions, a pedagogical method to help mastering soloflute orchestral repertoire. As a part of his pedagogical activities, he is also giving a masterclass in Kaštela, Croatia.
He is founder and artistic director of International Music Festival "Ursus".