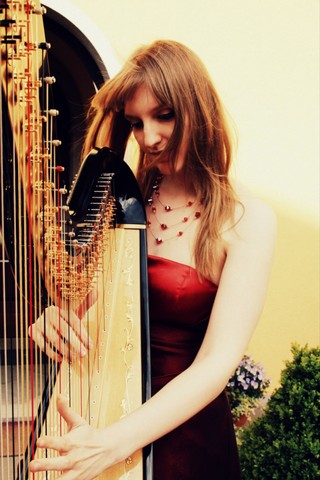 Silvia Vicario was born in Bolzano (Italy) in 1989. She studied harp with professor Patrizia Tassini at the "Jacopo Tomadini" Conservatory of Udine, graduating in 2007 with full marks. In 2010 she obtained the bachelor's degree with full marks at the Fine Art, Music and Drama University (DAMS) in Udine. Silvia won a scholarship offered by Mr Gordon Marshall which allowed her to undertake a Master of Performance (MPerf) of the duration of two years at the Royal College of Music, London, under the guide of Professor Ieuan Jones. In 2012 she graduated with a First Class Distinction.
After the Master, she attended an Advanced course for orchestral musicians at the Accademia del Teatro alla Scala, in Milan (Italy). The orchestra played in important theatres, such as: Teatro alla Scala, Teatro dal Verme (Milan, IT), Teatro la Fenice (Venice, IT), Auditorium RAI "Arturo Toscanini" (Turin, IT), Royal Opera House (Muscat, Oman), Harris Theatre (Chicago, USA), Strathmore Hall (Bethesda, USA); under the baton of Yuri Temirkanov, Fabio Luisi, Mikhail Tatarnikov, David Coleman, Daniele Rustioni and others. Silvia plays with various orchestras in Italy and abroad, in particular with Orchestra del Teatro alla Scala di Milano, SNG Opera in Ballet Ljubljana, Orchestra del Teatro Lirico di Cagliari and Orchestra del Teatro Massimo Bellini di Catania (Italy); under the baton of Riccardo Chailly, Daniele Gatti, Georges Pretre and others.
Involved also in contemporary music, she attended a one year-couse at the "N. Piccinni" Conservatory of Bari (Italy) with professor Lucia Bova, achieving 30/30 cum laude at the final exam. In 2015 Silvia won the second prize at the "International Competition for the Interpretation of Contemporary Music", dedicated on Berio's "Sequenze". In October 2012 she performed "Sur Incises" by Pierre Boulez during the "Slowind" Festival in Ljubljana (Slovenia), under the baton of Matthias Pintscher. In 2013 Silvia attended the Lucerne Festival Academy, where she performed pieces by Boulez, Ammann (Unbalanced instability, Swiss premiere), Webern and Stravinsky under the baton of Pierre Boulez and Pablo Heras-Casado. In this occasion, she attended a masterclass with Frederique Cambreling, harpist from the Ensemble Intercontemporain.
Since 2004 she has formed the harp duo "Mariposas" with Cristina Di Bernardo. The duo won various international competitions and performed in many concert seasons in Italy and abroad. In 2011 the duo had his debut performing the rare "Double Harp Concerto in D min op.91" for two harps and orchestra by Elias Parish Alvars with the Lambeth Orchestra (conductor: Christopher Fifield) and, later, with the Kensington Philarmonic Orchestra and Farnborough Symphony Orchestra (conductor: Mark Fitzgerald). The English composer Timothy Salter dedicated to the Harp duo Mariposas his work "Three Intermezzi", that received its premier in March 2012 and in December of the same year was transmitted on BBC Radio 3.
Silvia attended masterclasses with important harpists, such as: Luisa Prandina, Judith Liber, Bernard Andrès, Xavier de Maistre, Frederique Cambreling, Jana Bouskova.