Concert on the 24th of July, 2015
with
Marko Zupan, flute
Luis Cordero Jr., viola
Maria Gamboz Gradišnik, harp
Marko Zupan (Slovenia)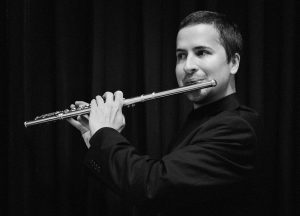 Marko Zupan was born in Zagorje, Slovenija. After the studies in his homeland he was granted a scholarship by the Slovenian Ministry of Culture to proceed his studies in Paris with prof. Pierre- Yves Artaud and later in Salzburg with prof. Irena Grafenauer. He perfected his knowledge in numerous masterclasses with world renowned flutists like Aurele Nicolet, Peter-Lukas Graf and Emmanuel Pahud. In this time he has won many prizes at the slovenian national competitions and also at the international music competitions (Trieste, Picardie, Belgrad, Braunschweig). In the year 2008 he became solo flutist in the Sudetian Philharmonic and a year later in the Philharmonic orchestra of Brandenburg state theatre in Cottbus. Since 2009 he is living and working as a freelance artist in Berlin. Playing as a solo flutist with Berliner Symphoniker, Philharmonia of the nations, Neues Kammerorchester Potsdam or Evian festival orchestra, member of different chamber music ensembles, soloist in recitals or with orchestra, he gave concerts in USA, Japan, China, Vietnam, Alegeria and throughout Europe. Recently he recorded two CD's, one with Trio Susak(flute, saxophone, piano) and the other with flutist Boris Bizjak and pianist Yoko Misumi, featuring music for two flutes and piano.
Since october 2010 he is assistant professor at the Academy of music in Split, Croatia. In 2013 he published Flute orchestral excerpts arranged for flute quartet with the Svitzer editions, a pedagogical method to help mastering soloflute orchestral repertoire. As a part of his pedagogical activities, he is also giving a masterclass in Kaštela, Croatia.
He is founder and artistic director of International Music Festival "Ursus".
Luis Cordero Jr. (Venezuela)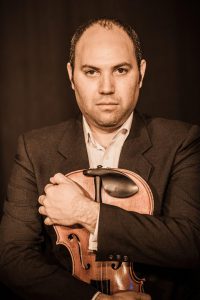 Born in Caracas, Venezuela, Luis Cordero Jr. comes from El Sistema, the Venezuelan system of youth orchestras (FESNOJIV). He completed his Master of Music studies at the Conservatoire Toulouse, as well as at the Centre des Études Supérièures de Musique et Danse de Toulouse and has attended master classes with the world-renowned teachers of the Conservatoire national Supérieur de Musique et de Danse de Paris and the Berlin Philharmonic's Karajan Academy as well as numerous master classes at prestigious summer courses and universities in France, Italy and the USA.
Additionally, Luis develops his instrumental career as viola instructor at various music academies in Venezuela, Germany, Poland, France and the United States.
He is an avid chamber musician and soloist and takes part in many prestigious festivals in Europe, America and Asia, such as the Contemporary Music Festival in Warsaw, and international music festivals in Salzburg, Schleswig-Holstein, Baden-Baden, Mecklenburg-Vorpommern, Sapporo, Aix-en-Provence, Lucerne and Wiesbaden. He regularly collaborates with various orchestras throughout Europe such as the Orchestre National du Capitole de Toulouse, Orchestre Nationale de Bordeaux,NDR Hamburg,Berliner Symphoniker,Munchener Kemmerorchester, among many others. He works regularly with prominent international soloists such as Rolando Villazon, Ilya Kaler, Stella Doufexis, Radek Baborak and Antoine Tamestit as well as with some of the most important conductors of our time: Simon Rattle, Gustavo Dudamel and Tugan Shokiev.
His passion for music outside the classical discipline has led him to discover and develop collaborations with various musical projects such as Polish Radio & television, the Swiss Film Festival, Transatlantis and the Bacewicz String Quartets, as well as various Latin American projects.
In February 2013, Luis was appointed to the prestigious ensemble Bolivar Soloists to further his career by taking part in this marvelous music project.
Maria Gamboz Gradišnik (Italia)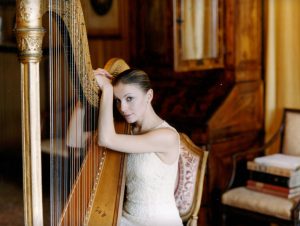 Maria Gamboz Gradišnik graduated in Tokyo, from the University of Fine Arts and Music, with honours graduated in Conservatorio Tartini in Trieste – Italy,and specialized in Conservatorio of Udine and Accademia Chigiana of Siena. During her studies she won six scolarships in italian competitions, including Società Umanitaria, L. Caraian Chamber and L.Comuzzi Prize, confirming herself as one of the best student in the italian scenario from 1999 to 2001. In 2002 she won the Victor Salvi Competition, in 2003 the International Contest Festival Italiano, and in 2004 three more International Competitions including TIM (Salone de Provence- France).
During her stay in Japane, untill 1999, she has collaborated with the Japanese Ancient Music Ensamble of Togi Hideki, and with the specialization school for lyric singer Tokyo Verdi Ensemble.
Following this years she has performed in halls such as Concert hall of Opera City, Santory Hall and Art Sphere. She has performed the most important works from the repertoire for solo harp and Orchestra, and primiere of concerts written for her from contemporary composers, in Slovenija Filharmonija (Ljubljana), Teatro dal Verme (Milano), Sala Verdi (Milano) and Teatro Giovanni da Udine (Udine). She has appeared as soloist with the FVG Symphony Orchestra, Opera in Ballet Ljubljana, Young Janàček Philarmonic Orchestra, and several italian Chamber Orchestras.
Her particular interest for the vocal music took her to an intense collaboration with the lyric singer and coral groups, in Japane in Italy and in Slovenia. She took part in the recording of seven CDs for chorus and solo harp, or chorus and Instrumental Ensemble. In addition she has always looked for new repertoire, she rearranged for harp a concert for solo and orchestra and several pieces in different chamber formations, and has been publication consultant for new works of contemporary composers, released by Curci and Pizzicato. She has collaborated as first harp with Mozart Orchestra in Bologna, Orchestra della Svizzera italiana in Lugano (Switzerland), Fondazione Lirica Teatro Verdi in Trieste, Radio Slovenija Sinfonični Orkester in Ljubljana (Slovenia), Friuli Venezia Giulia Symphony Orchestra in Udine, Filarmonia Veneta in Treviso, Symphony Orchestra of Perugia, and many other.
Since 2008 she is the Pricipal Harp in SNG Opera in Balet Ljubljana (Slovenia).