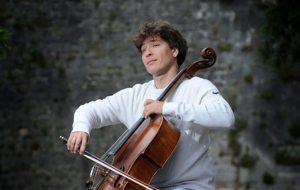 Cellist Mihovil Karuza of Split, Croatia, started to play cello at the age of 7 in the class of Professor Vladimir Lukas. He studied cello performance at Zagreb University in the class of Professor Valter Dešpalj. He graduated from the University in 1996 with top honors. He holds a Masters degree in cello performance from Pennsylvania State University where he studied with Professor Kim Cook and worked as a teaching assistant. His technique and interpretative skills have been improved under internationally recognized concert artists and virtuosos such as K. Botvay, L. Claret, Y. Gutman, M. Hayashi, A. Parisot, S. Sondeckiene and M. Steinkühler. In the course of his studies he has participated in numerous competitions and won a number of awards.
From 1997 until 2000 he played as a resident member with the Zagreb Philharmonic Orchestra and from 2000 until 2009 he was the principal cellist of the orchestra of the Croatian National Theatre in Split. From 2002 until 2004 he played as the principal cellist in the Altoona Symphony Orchestra and assistant-principal in the Pennsylvania Centre Orchestra.
Since 2004 he has been principal cellist in the Zadar Chamber Orchestra and a founding member of the Split String Quartet. Since 2011 he performs regularly with the Zagreb Soloists Ensemble. As a soloist he won recognition while playing under the batons of P. Dešpalj, G. Edelstein, T. Ninić, M. Tarbuk, D. Sremec, B. Šipuš, S. Zaninovich, accompanied by the Croatian Chamber Orchestra, the Wind Symphony Orchestra of the Croatian Army, the Split Symphony Orchestra, the Penn State Philharmonic Orchestra, the Zadar Chamber Orchestra, the Split Chamber Orchestra and the Chamber Orchestra of the Croatian National Theatre in Split. He has given a series of successful solo concerts in Croatia and abroad (Slovenia, Italy, Austria, France and USA).
He has also recorded for the Croatian Radio and Television and the Slovenian Radio and Television and recorded two CDs.
Since 2006 he is a full-time faculty member at the University of Split Arts Academy. As Professor of cello and chamber music his studio has grown and his students have won recognition and awards at various national and international competitions.