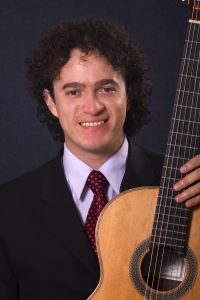 Cecilio Perera was born in Merida, Yucatan, Mexico in 1983. He started to play guitar at the age of nine with his brother Pedro Perera, and after a couple of years he studied with Ricardo Vega at the music school in his town, and began to give concerts.
Since 1999 until 2005 he was studying at Xalapa University of Music with Alfredo Sánchez and Consuelo Bolio.
Cecilio has already played with some famous orchestras such as the Qingdao Shymphony Orchestra, St. Petersburg State Hermitage Orchestra, Salzburg Philharmonie, Cuba National Orchestra, Italian Orchestra Academia Musical Naonis, UNAM Philarmonic Orchestra, Yucatan Symphony Orchestra, Xalapa Chamber Music Orchestra, Guanajuato Symphony Orchestra, Acapulco Philarmonic Orchestra, Chihuahua Philarmonic Orchestra, Merida Chamber Music Orchestra, Almería Symphony Orchestra, among others.
Cecilio has performed in Mexico, United States, Canada, Cuba, Costa Rica, Belize, Austria, Germany, France, Finland, Estonia, Bulgaria, Slovenia, Spain and Italy, also playing for different TV programs and radio as well in prestigious festivals and theatres in Europe and America. He had the oportunity to collaborate with famous composers who dedicated guitar works to him.
Cecilio holds a master degree from the Mozarteum University Salzburg where he studied with his mentor Eliot Fisk, also studied with Ricardo Gallen, old music with Howard Penny and modern music with Simone Fontanelli.
His repertoire ranges from renaissance on the lute to contemporary music and chamber music with flute, voice, string quartet, and other combinations  and his latest CD is recorded by Naxos Label playing latin american composers.
Cecilio works as a assistant of Eliot Fisk at the Mozarteum University in Salzburg, Austria.