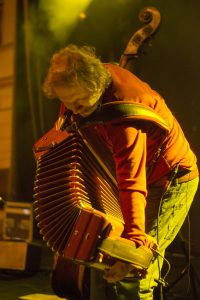 Jure Tori plays stories in his own dialect. He has played in many different places, from underground coal mines to the very top of the Alps. The intimacy of his delicate solo accordion embraces the warmth and cosiness of a fire place while his powerful folk punk band Orlek rocks the biggest stages of the world. His ear soothing melodies gently caress the soul and the heart. In his compositions Jure Tori expresses his personality, traumas and pleasures; sometimes in a funny and sometimes in a sad way. This is the easiest way to hide and run away from the outside world into his own.
Jure Tori has performed in small villages and on most important stages all around the world. Together with Ewald Oberleitner and lately with Tori Trio, Tori Tango, Tori Story he has toured Slovenia, Austria, the Czech republic, Slovakia, Italy, Croatia, Great Britain, France … With his group Orlek he has played in many European countries, USA, Asia, Australia and New Zealand. He has performed in New York, Sydney, Beijing, Buenos Aires, Moscow, London, Paris, Prague, Bratislava, Sao Paulo, Monte Video, the European parliament in Brussels, Vienna and Ljubljana. His projects include collaborations with various musicians from all around the world; Austria, Italy, Cuba, Argentina, the Czech Republic …
Jure Tori's compositions are a part of the curriculum programme for students of accordion, and The Slovenian Music Information Center has published his compositions on their jazz and ethnic compilations. Tori's work can also be found in animated films, feature films and a number of Slovenian and Austrian documentaries.