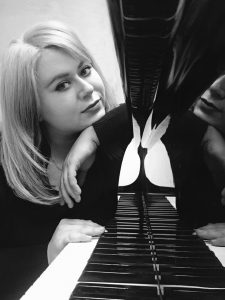 Marina Panova was born 13.08.1991 in Ekaterinburg, Russia. In 2009 she graduated with honors from the Special Music School and Ural College of Music, in 2014 from the Ural State Conservatoire. She studied piano with professor Natalia Pankova.
During the years of her studies, she became the winner and graduand of national and international competitions, such as the Ural Chamber Assembly (Russia), Adilia Alieva International Piano Competition (France). Marina Panova participated in masterclasses with Mikhail Khokhlov (Russia), Denis Matsuev (Russia), Sergey Glavatskih (Russia), Evgeni Levitan (Russia), Natalja Savinova (Russia), Viktor Yampolskiy (Russia), Boris Andrianov (Russia), Adilia Alieva (France/Switzerland), Denis Severin (Switzerland), Milana Chernyavska (Austria), Igor Gryshyn (Germany), Nina Tichman (Germany), Eliane Reyes (France), Nicolas Bacri (France).
Marina gives concerts in the cities of Russia and Europe.
2010-2014-accompanist at the Ural State Conservatory M.P.Musorgsky and Musician and teacher of the Children's Philharmonic (Ekaterinburg).
Now Marina is a student at the Hochschule für Musik "Hanns Eisler" in Berlin (class Prof. Gabriele Kupfernagel) and she teaches piano at national music school "Friedrichshain-Kreuzberg" in Berlin.