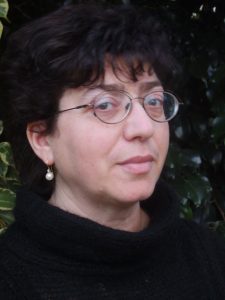 Marina Minkin left Soviet Union (former) for Israel in 1981; there she studied piano with Michael Boguslavsky and harpsichord performance with David Shemer at the Jerusalem Academy of Music.
Between 1988 and 1990, Ms. Minkin studied harpsichord with Professor Mark Kroll at Boston University, earning a Masters degree in Harpsichord Performance. In 1998, she earned a Doctor of Musical Arts degree in Historical Performance, her dissertation being a study of the Italian composer Anna Bon's life and work. She was the winner of the 1990 Boston University Concerto-Aria Competition, a semi- finalist in the 1991 Spivey International Harpsichord Performance Competition in Atlanta, and a recipient of the St. Botolph Club Artist's Award of 1994 and the Elsbeth Melville Guild Scholarship of 1997.
Among many chamber music festivals, Marina Minkin has appeared at the Fifth International Recorder Festival in Montreal, Canada, the Abu Gosh Festival, Israel, the Ogunquit Chamber Music Festival, US, Cluj International Festival, Transilvania, and Brianza Early Music Festival, Italy among many others. She is a founder and an Artistic Director of the "LAUDA: Jewish-Arab Youth Ensemble of early and ethnic music based in Galilee.
From 2009 Dr Minkin has been appointed as the Artistic Director of the Yehiam Renaissance Festival (Western Galilee, Israel).
Marina Minkin has just released 2 new CDs: a recording of Vittorio Rieti's harpsichord solo and chamber music on NEW WORLD RECORDS featuring acclaimed American and Israeli artists, and "Conversations" – contemporary music for 2 harpsichords (with David Shemer) on OMNIBUS CLASSICS. Her other recordings include the CD Harpsichord Music by Israeli Composers (ALBANY RECORDS), the album Bach, Bach & Bach (ARTONA) featuring sonatas for viola and harpsichord by J.S. Bach and his sons (with Michael Zaretsky, viola), and numerous appearances on the WGBH radio station (Boston), the Kol Israel classical music radio station (Israel), RCJ radio Paris, and WNYC radio NewYork.
Currently Marina Minkin is residing in Israel; she teaches harpsichord and baroque music courses at the Levinsky College School of Music Education, at the Israeli Conservatory in Tel-Aviv and at the Jezreel Valley Art Center.
She performs and records regularly as a soloist, and as a member of the Phoenix Ensemble, the Spectrum Ensemble, the Israel Contemporary Players (Ensemble 21), and Mediterranean Baroque Quartet featuring Italian and Israeli musicians.