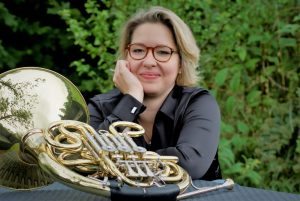 Susanna Gärtner was born in 1993 in Germany. She started her Bachelor studies at the Nuremberg University of Music 2011 and graduated at the University Mozarteum Salzburg with Professor Hansjörg Angerer in 2015. During her Bachelor studies, she attended an Erasmus Exchange Programm at the Royal College of Music in London with Timothy Jones, Nigel Black and Simon Rayner. Currently, she is doing her Master studies at the Mozarteum in Salzburg, where she additionally works as a student assistant.
She gained orchestral experiences while playing with several orchestras, for example, the Mozarteum Orchestra Salzburg, the Festival Orchestra Gut Immling, the Bläserphilharmonie Salzburg and the Bad Reichenhall Philharmonic Orchestra.
As a chamber musician, she has performed with the Ensemble 1756, Salzburger Hofmusik, besides that she recorded several pieces with Prof. Wenzel Fuchs, Prof. Benjamin Schmid, Prof. Christine Hook and Prof. Hansjörg Angerer.
During her studies, she attended several masterclasses with Sarah Willis (Berlin Philharmonic Orchestra), Stefan Dohr (Berlin Philharmonic Orchestra), Johannes Dengler (Bayerische Staatsoper), Tommi Hyytinen (Finnish Radio Symphony Orchestra) and Froydis Ree Weckre (International Horn Society).