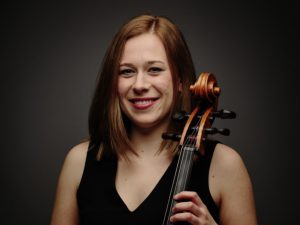 Born in 1992 in Ljubljana, Nika received her first cello lessons from her father at the age of 8. After moving to Klagenfurt, Austria in order to continue her cello studies in the class of professor Igor Mitrovič, she graduated with distinction in 2013. Being very passionate about chamber music, Nika had the luck to become a founding member of the Furiant Quartet together with her friends and fellow students in 2011. Following this passion, she moved to Berlin in 2013, where she and the quartet pursued their studies of Chamber Music at the Hochschule für Musik "Hanns Eisler" in the class of Eberhard Feltz and Tim Vogler. The quartet attained their Master degree in 2016 and is since then pursuing a concert career in Europe and abroad. From 2015 to 2018, Nika was a cello student of Thomas Kaufmann and Valentin Radutiu at the "Hochschule für Musik und Theater" in Rostock, where she graduated with great success. She is proceeding her studies under the guidance of Prof. Natalie Clein.
Apart from the studies, she has attended cello and chamber music masterclasses given by Leonid Gorokhov, Knut Weber, Jens-Peter Maintz, Christoph Richter, Daniel Rowland, Jürgen Kussmaul, Cuarteto Casals, Belcea Quartet, Heime Müller, Donald Weilerstein and many others.
She has been prizewinner of the national competition of Slovenia (2009, 2012), has recorded live for the ORF radio between 2010 and 2012, performed as a soloist with the "Young Soloists of Ljubljana" orchestra in 2010, and with the KSO as prizewinner of the "Junge Solisten" competition in 2012. In the same year, she has played several recitals for the Slovenian Jeunesse. As a cellist of the Furiant Quartet, she became the 1. Prizewinner of the "Boris Pergamenschikow Preis" in Berlin and "Irene Steels-Wilsing Stiftung competition for young quartets" in 2016.
Some of her most significant chamber music and solo concerts were in festivals like "Aix-en-Provence Festival" in France, "Stellenbosch Festival" in South Africa, "Rheingau Festival", "Gezeitene-Konzerte" in Germany, "Amici della Musica" in Italy, "Festival Lent" in Slovenia and others. As a Slovenian Ministry of Culture scholarship holder, Nika is also dedicated to represent Slovenian culture abroad, as well as sharing her knowledge and performing in her home country.
Being a part of "Live Music Now" foundation, Nika is also very engaged in social projects and musical education and gives big importance to bringing music to places and people for whom big concert halls are not reachable. Because teaching is a big part of her career, she holds a position in a music school in Berlin and gives masterclasses in Italy (Conservatorio Trieste) and Romania (Eufonia Festival).