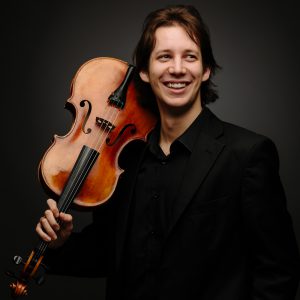 Mladen Somborac was born in Šibenik, Croatia, in 1991 and took his first violin lessons atthe age of seven at the school of music in Montenegro. When he was eleven years old hemoved to Belgrade in Serbia and completed his studies at the city's musical middleschool. At 17 he began playing the violaand was soon a much-sought-after soloist and chambermusician.Repeated competition successes (prize at the 2009International Competition in Nis, Serbia; prize in theRepublic of Serbia Competition in Belgrade in 2010)attest to his artistic ability.After only two years of playing the Viola he was admittedto the class of Thomas Riebl at the Salzburg Mozarteum,where he got his Bachelor Diploma, as well as Master andPostgraduate certificate in class of William Coleman. He has attended the master classes of Urlich vonWrochem, Hartmut Rohde,Peter Langgartner, Thomas Hengelbrock and TatjanaMasurenko.
Orchestral experience has come to him as a member ofthe Central Europe Youth Orchestra in 2010, the WienerJeunesse Orchester in 2013, the Cuban-European YouthAcademy in 2015; 2016; 2017,and in the ensembles Salzburg Chamber Soloists, Camerata Salzburg, oenm – Austrianensemble for new music, Kammerakademie Potsdam, Deutsches KammerorchesterBerlin, Deutsche Kammerakademie Neuss, Balthasar Neumann Chor und Ensemble,Komische Oper Berlin and Stuttgart Chamber Orchestra. Mladen is an enthusiastic chamber musician and his fellow-performers have includedWolfgang Redik, William Coleman, Clemens Hagen, and he also worked with VeronikaHagen and Reiner Schmidt (Hagen Quartet), William Coleman (Kuss Quartet), MilanMilojicic (Minetti Quartet), Alasdair Tait and Louis Hopkins.From July 2014 until July 2016 he held an academy position in Balthasar Neumann Chorund Ensemble under the patronage of Thomas Hengelbrock, where he participated in theprojects with Balthsar Neumann Ensemble and had an intensive chamber music coursestogether with other participants of academy working with renowned musician such asMatthias Goerne, Michael Behringer, Prof. Elisabeth Scholl, Bernhard Forck, ChristophDangel oder Pablo de Pedro. From 2016 until 2018 he has been an academy member of the viola group at theKomische Oper Berlin.
In 2018 he joined the Furiant Quartet. (https://www.furiantquartet.com/)In the 19/20 season he held co-principal position in Stuttgart Chamber Orchestra.