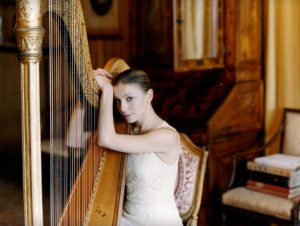 Maria Gamboz Gradišnik graduated in Tokyo, from the University of Fine Arts and Music, with honours graduated in Conservatorio Tartini in Trieste – Italy,and specialized in Conservatorio of Udine and Accademia Chigiana of Siena. During her studies she won six scolarships in italian competitions, including Società Umanitaria, L. Caraian Chamber and L.Comuzzi Prize, confirming herself as one of the best student in the italian scenario from 1999 to 2001. In 2002 she won the Victor Salvi Competition, in 2003 the International Contest Festival Italiano, and in 2004 three more International Competitions including TIM (Salone de Provence- France).
During her stay in Japane, untill 1999, she has collaborated with the Japanese Ancient Music Ensamble of Togi Hideki, and with the specialization school for lyric singer Tokyo Verdi Ensemble.
Following this years she has performed in halls such as Concert hall of Opera City, Santory Hall and Art Sphere. She has performed the most important works from the repertoire for solo harp and Orchestra, and primiere of concerts written for her from contemporary composers, in Slovenija Filharmonija (Ljubljana), Teatro dal Verme (Milano), Sala Verdi (Milano) and Teatro Giovanni da Udine (Udine). She has appeared as soloist with the FVG Symphony Orchestra, Opera in Ballet Ljubljana, Young Janàček Philarmonic Orchestra, and several italian Chamber Orchestras.
Her particular interest for the vocal music took her to an intense collaboration with the lyric singer and coral groups, in Japane in Italy and in Slovenia. She took part in the recording of seven CDs for chorus and solo harp, or chorus and Instrumental Ensemble. In addition she has always looked for new repertoire, she rearranged for harp a concert for solo and orchestra and several pieces in different chamber formations, and has been publication consultant for new works of contemporary composers, released by Curci and Pizzicato. She has collaborated as first harp with Mozart Orchestra in Bologna, Orchestra della Svizzera italiana in Lugano (Switzerland), Fondazione Lirica Teatro Verdi in Trieste, Radio Slovenija Sinfonični Orkester in Ljubljana (Slovenia), Friuli Venezia Giulia Symphony Orchestra in Udine, Filarmonia Veneta in Treviso, Symphony Orchestra of Perugia, and many other.
Since 2008 she is the Pricipal Harp in SNG Opera in Balet Ljubljana (Slovenia).