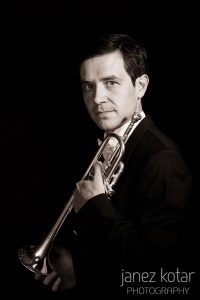 Jure Gradišnik graduated from the Academy of Music in Ljubljana in the class of prof. Stanko Arnold and later continued his studies at the Mozarteum in Salzburg with prof. Hans Gansch. He has won many awards at national competitions, including a Yamaha scholarship in 2003. In 2005, he received the Prešeren Student Award for his performance of H. Tomasi's concert with the Slovenian Philharmonic.
Already during his studies, Gradišnik became a trumpet player of the SNG Opera and Ballet Ljubljana Orchestra and was employed there as a solo trumpet player in 2003–2012. He is now employed as a solo trumpet player with the RTV Slovenia Symphony Orchestra.
In addition, he actively collaborates with other orchestras and various chamber ensembles, both in the brass quintet SiBrass, in the trio Seraphim, in the brass trio RTV Slovenia and in a duet with harpist Mario Gamboz Gradišnik. He has performed as a soloist with the RTV Slovenia Symphony Orchestra, the Slovenian Philharmonic Chamber String Orchestra, the Slovenian Army Orchestra, the Philharmonic Oltenia Symphony Orchestra, the Maribor Festival Chamber Orchestra, the SNG Opera and Ballet Ljubljana Orchestra, the Slovak Chamber Orchestra, the Cappella Istrian Orchestra and the Cappella Army Orchestra. Philharmonic "Oltenia" and the Slovenian Philharmonic Orchestra. He has performed with renowned musicians (S. Arnold, R. Galliano, S. Mead, R. Tognetti…) and under the baton of many renowned conductors such as A. Nanut, U. Lajovic, M. Letonja, E. Shao, D. Rossberg, T. Hanus …
Since 2004 he has been teaching at the music school at the Institute of St. Stanislava, in 2011 he became an assistant and in 2015 an assistant professor at the Academy of Music.