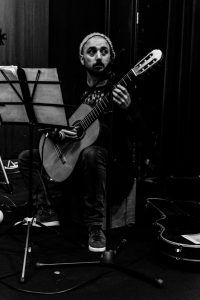 Goran Cetinić – Koća was born in Split where he started to play guitar at the age of 11 and was self-taught till the age of 22 when he started taking classical guitar lessons. From 2001 he plays in various blues and jazz bands. He has collaborated with many famous croatian musicians and has held numerous concerts and performed on various blues/jazz/etno festivals. He regularly performs on the most important Croatian blues and jazz festivals that are broadcasted on Croatian National Radio and Television.
In 2010 he started to study classical guitar at the Academy of Arts in Split where he graduated in tha class of prof. Goran Listeš.
He is a member of Split guitar quartet since it was founded, blues band Otprilike Ovako, and jazz band Šporkestar.