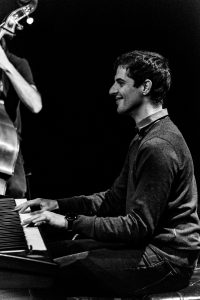 Tonči Tranfić was born in 1987 in Split. He finished primary and secondary music education with prof. Najda Čapalja at the Josip Hatze Music School in Split. In 2004 he enrolled in the Music Academy in Zagreb in the class of Professor Djordje Stanettia. While studying he performed at numerous concerts and achieves high scores in over 20 competitions in the categories piano, piano duo, solfeggio …
The most notable results are the 1st prize at the 1999 and 2001 national competitions and after the first place won in he received an invitation for a performance at the concert "In memoriam Darko Lukic" in Osijek, following 1st prize at the international competition "Zlatko Grgošević" in 2000 and 2nd prize at the same competition in 2002. In the same year he won the 2nd prize at the international competition "Etudes and Scales". At the national Solfeggio competition he won two 2nd prizes in 2003 and 2005. He perfected his music education at numerous seminars with renowned world pedagogues, such as Arbo Valdma, Đuro Tikvica, Vladimir Krpan and others.
In 2009 he graduated with excellent marks In the same year he was employed as a piano professor at Josip Hatze's Music School in Split, and as a accompanist-artistic collaborator at the Music Academy in Split.
In 2015, at the String Festival in Sremska Mitrovica, Serbia, he won the award for the best piano collaborator of the festival. In the same year he performed as a soloist with the orchestra of the Croatian National Theater Split in the cycle of New Year's concerts.
Tranfić is artistical leader of dalmatiam klapa Cambi and klapa Elektrodalmacija.