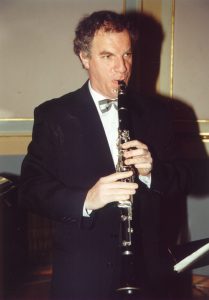 Željko Milić graduated in clarinet in 1982 at the Faculty of Music in Belgrade (Milenko Stefanović), participated in state competitions as a student – in 1976 he won the first and special jury prize as a member of the clarinet quartet. In 1977 he won the first prize and was named the best contestant in a group of wind instruments, in 1981 he won first prize at the Music Academy Competition, second prize at the 1986 Clarinet Competition, and a special prize at the International Music Youth Competition for performing works of the 20th century. He performed with great success as a student.
Since 1984 he has been working as a soloist with the orchestra of the Opera of the Croatian National Theater in Split. He has performed as a soloist with the HRT Symphony Orchestra, the HNK Split Symphony Orchestra, the Croatian Chamber Orchestra, the Split Chamber Orchestra and the HRM Orchestra, and delights audiences with inspired interpretations of the most demanding works for clarinet solo and clarinet with piano accompaniment. He recorded a solo CD with works by Croatian composers (Ed. Cantus).
He teaches at the Academy of Arts in Split, and is the head of the Department of Wind Instruments.