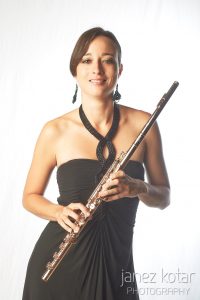 Flautist Brina Kafol Žust studied at the University of Music and Performing Arts in Vienna and Graz, Austria. She has participated in master classes held with Emmanuel Pahud, Robert Aitken, Gaspar Hoyos, James Galway and Felix Renggli.
Brina is also a prize winner of many national and international competitions.
From 2008 – 2014 she was the principal flute of the Slovenian Radio and Television Symphony Orchestra. As has been substituting in foreign orchestras, including the world famous Berlin Philharmonic Orchestra and the Gürzenich Orchestra Köln. Brina is performing regularly in various international festivals such as Ljubljana Festival and Rad Landsberg am Lech Festival with famous musicians such as Andrej Žust, Christoph Hartmann, Egor Egorkin, Wally Hase, Nika Gorič and others. She is also a member of the chamber ensemble Ensemble.si and the Slovenian Flute Trio together with Marko Zupan and Boris Bizjak.
The Trio has just released a CD, a world premiere recording of Eugene Walckiers Flute Trios on Hedone Records label.
As a very successful soloist she has been regularly invited to perform Mozart's Concerto for Flute and Orchestra in D major and in G major, Piccolo Concerto by Antonio Vivaldi in C major and Andante and Rondo by Francois
Doppler.