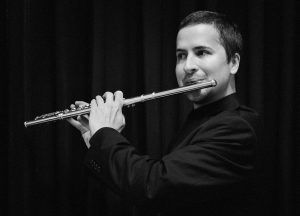 Marko Zupan was born in Zagorje, Slovenija. After the studies in his homeland he was granted a scholarship by the Slovenian Ministry of Culture to proceed his studies in Paris with prof. Pierre- Yves Artaud and later in Salzburg with prof. Irena Grafenauer. He perfected his knowledge in numerous masterclasses with world renowned flutists like Aurele Nicolet, Peter-Lukas Graf and Emmanuel Pahud. In this time he has won many prizes at the slovenian national competitions and also at the international music competitions (Trieste, Picardie, Belgrad, Braunschweig). In the year 2008 he became solo flutist in the Sudetian Philharmonic and a year later in the Philharmonic orchestra of Brandenburg state theatre in Cottbus. Since 2009 he is living and working as a freelance artist in Berlin. Playing as a solo flutist with Berliner Symphoniker, Philharmonia of the nations, Neues Kammerorchester Potsdam or Evian festival orchestra, member of different chamber music ensembles, soloist in recitals or with orchestra, he gave concerts in USA, Japan, China, Vietnam, Alegeria and throughout Europe. Recently he recorded two CD's, one with Trio Susak(flute, saxophone, piano) and the other with flutist Boris Bizjak and pianist Yoko Misumi, featuring music for two flutes and piano.
Since october 2010 he is assistant professor at the Academy of music in Split, Croatia. In 2013 he published Flute orchestral excerpts arranged for flute quartet with the Svitzer editions, a pedagogical method to help mastering soloflute orchestral repertoire. As a part of his pedagogical activities, he is also giving a masterclass in Kaštela, Croatia.
He is founder and artistic director of International Music Festival "Ursus".