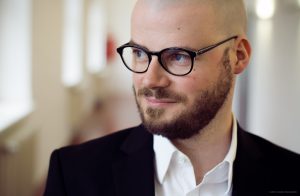 Alexander Hüttner, born 1986 in componist Max Reger's hometown Weiden started his singing studies at the University Mozarteum Salzburg in 2007 first with Aud Kjellaug Tesaker, then with Gudrun Volkert and since 2010 in the singing class of Andreas Macco. In 2012 he finished with the Bacelor of Arts degree and started doing his Master studies in "Lied and Oratorium" in the class of Therese Lindquist,which he finished summa cum laude in 2015.
He was guest at the Salzburg State Theater, where he took part in the staging of Charlisle Floyd's "The Passion of Jonathan Wade". In 2015 he sang his first "Evangelista" in Johann Sebastian Bach's "Johannespassion" in London and Weimar and have sung it until today several times in Salzburg and Germany. Also in 2015 he debuted at the Salzburg Festival in Franz Schubert's oratorio "Lazarus" under Ingo Metzmacher.
Since 2015 Alexander Hüttner is also member of the new formed baroque ensemble "BachWerkVokal", that aims to bring all of J.S. Bachs Kantats to stage.